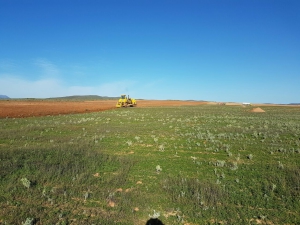 Photo: Ground preparation underway at Oude Schuur
During the winter of 2016 Villion Farms  purchased Oude Schuur, a large farm that produces wine and plums at Nuy in the Breede River valley. The farm is 1000ha in total size and there is currently enough water for in excess of 100ha of development.
Oude Schuur is not in the Hex River Valley but in the adjacent Breede River Valley. It is around 30 km from the Villion Farms headquarters at Hex River.  The purchase of this farm marks the expansion of Villion Farms into an area which is traditionally a wine grape production area but where the production of table grapes has been increasing over the past decade or so.
"I see the purchase of this farm in the Nuy area as something of a reconnection with our roots as my mother is from Leipzig at Nuy. This is a beautiful farm and I am excited about the development potential for our business with this new acquisition," says Anton Viljoen jr.
This new property provides the opportunity for considerable expansion in table grape production and Villion farms is currently busy preparing the ground to plant new vineyards.